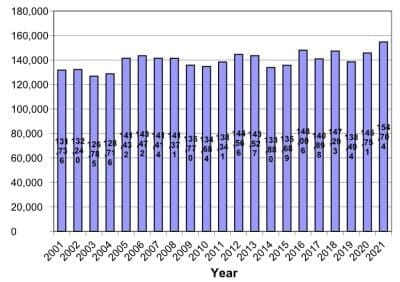 Beef semen inventory recording boom continues
BOTH bull and female registrations, the number of beef producers raising registered cattle has increased again in 2021, reflecting the boom period in semen stocks and the beef industry in general.
Data released by the Australian Registered Cattle Breeders Association for the 2021 calendar year during the Brisbane Show last week shows large and sometimes dramatic increases in breed registrations.
For the year 2021, primary registrations of beef cattle with breed societies reached a record 154,704 head, up 8,953 or 6% from the previous year.
British breeds and their Australian derivatives (such as Murray Gray and Lowlife) continued to dominate breed registrations, accounting for 49.4% of all registered cattle last year, totaling 76,501 head.
Tropical breeds (Brahman and derivative breeds like Droughtmaster, Santa Gertrudis and others) accounted for an additional 22.8% (35,272 head) and European breeds and their derivatives an additional 12.5% ​​(19,415 head).
The "other" category (mainly Wagyu and Speckle Park) accounted for a 15.2% share of all cattle registrations last year, or some 23,516 head.
There has been a large increase in the number of animals registered in secondary breed registries in 2021 due to a large increase in secondary registrations of the Wagyu breed. Some 66,362 animals were registered in secondary registries in 2021, the highest number in 20 years. These animals represented the number of off-herdbook animals raised for seedstock production.
Since 2005, the ratio of primary to secondary register breeding cattle in Australia has remained fairly stable at around 70% primary to 30% secondary.
Breed comparisons
In a breakdown by individual breeds, Angus continued to dominate primary registrations last year, representing a record 49,488 bulls and females. Wagyu was the second largest with 20,141 primary registrations, followed by Hereford (18,317), Brahman (11,918), Saint Gertrude (8161), Charolais (7762) and Drought Master (7015).
Continuing their dramatic rise since 2007, Wagyu now ranks third on the animal registration list, when the secondary and primary registers are combined (26,708 head, accounting for 12.1% of the total). In 2007, Wagyu breeders registered only 2,567 head, compared to 20,141 last year.
However, caution should be exercised when making breed-wide "popularity" comparisons based on registration figures alone.
Click here to see a breed-by-breed summary of primary and secondary entries for 2021.
Breed Society Membership
The total number of full memberships of the 38 breeds represented as members of ARCBA in 2021 reached 10,553, a considerable increase from the 6,999 full memberships in 2020.
While many breeds have seen gradual increases in membership, the dramatic scale of the overall increase is largely due to Angus Australia deciding to merge its full and commercial members into one. single group. As a result, the number of full Angus members (including former commercial members) has increased from 1034 in 2020 to 3288 last year, more than tripling the number.
But the organic growth in Angus membership is also clearly evident, with a record 206 Angus bull sales held across Australia this year.
Other breeds also saw strong gains in membership, however last year Murray Gray and Red Angus doubled their membership to 307 and 324 respectively. In the ranks of the tropical races, Droughtmasters increased the number of members by 12% to 445, and Brangus increased the number by 25% to 288.
Rapid expansion was seen among the European breeds in the Simmental, up 78% to 422 members, while in the ranks of the "Other" breeds, Wagyu continued its dramatic growth increasing membership by another 71, which represents an increase of 11% to 743, and Speckle Park, up dramatically. to 521 members.
The industry in "very good shape"
Record levels of cattle registrations in primary and secondary registries in 2021 demonstrated that the registered seed stock industry was in "very good shape", the ARCBA executive director said. alex mcdonald says Beef Central.
"The results reflect how healthy the broader beef industry is today," Dr McDonald said.
"Remove foot-and-mouth disease risks from the equation, and there's plenty of optimism in the industry regarding global beef demand, future prices and seasonal trends – for now at least."
"Seed stock prices over the past few months have clearly reflected this, breaking all records for average sales," said Dr McDonald.
"Real estate sales averaging $15,000 to $25,000 were unheard of even a year ago, but are now becoming commonplace. »
Beef Central releases its annual summary of bull sales averages and numbers sold across all major beef breeds at the end of November.