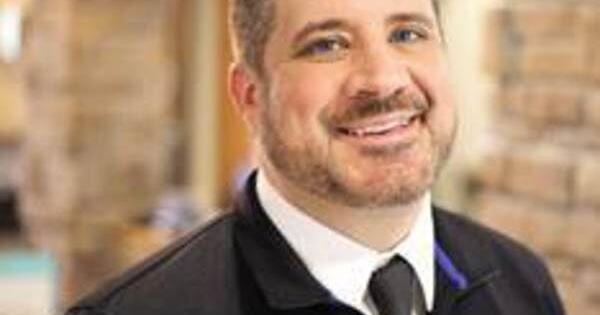 Concord honors alumni for their professional achievements | State and region
The Concord University Alumni Association honored four alumni for their outstanding professional achievements, community service, and dedication to their alma mater.
The awards will be presented during Homecoming 2022 at the "A Toast to Your Generosity" event recognizing university donors and volunteers on October 1.
The recipients are: Dr. Brad Lane '02, '03, Alumnus of the Year; Jeffrey Pack '06, Outstanding Alumnus; Margaret "Peggy" Edmunds, Golden Alumnus '54; and Dr. Emily Fridenmaker '12, young alumnus.
• • •
Dr. Brad Lane is from Wyoming County. He grew up in Mullens, the son of a West Virginia coal miner. He earned his undergraduate degrees in sociology, psychology, and pre-professional biology from Concord University's honors program in 2002 and 2003.
He earned a Doctor of Optometry from the Pennsylvania College of Optometry in 2007 and joined Dr. Christopher Hansen as practice owner of Appalachian Eye Care and New River Eye Care. In 2016 he completed an MBA and in 2020 he obtained a Master of Education in Instructional Design.
Dr. Lane is an advocate for his profession and sits on numerous boards that seek to advance optometry, eye health and patient care. He is a past president of the West Virginia Association of Optometric Physicians and is currently a trustee of the Atlanta-based Southern Congress of Optometry. Dr. Lane is also a Diplomate of the American Board of Optometry and was honored as West Virginia's Young Optometric Physician of the Year in 2013 and the 2017 Optometric Physician of the Year.
For his dedication to Concord University, he was named Philanthropist of the Year by the CU Advancement Office at the 2021 homecoming. He is Chairman of the Board of Governors of Concord University, a founding member of the White Coat Society of Concord University and former board member of the Concord University Foundation. He created and funded two scholarships for Concord students. He also sits on the board of the Jonathan Powell Hope Foundation, a local charity that raises money for families whose children are battling cancer.
• • •
A lifelong West Virginia resident, Jeffrey Pack graduated in 2006 from Concord University. He enlisted in the US Air Force in 2000 and served until 2005 when he attained the rank of Staff Sergeant. Returning home, he enrolled at Concord and graduated in 2006 with a Bachelor of Arts in Political Science.
In January 2018, Pack was nominated to fill a vacancy in the West Virginia House of Delegates, representing Raleigh, Summers, and Monroe counties in the 28th District. He was elected in November 2018 and again in 2020. He was chairman of the House Republican Caucus and also served as chairman of the House Committee on Health and Human Resources.
Pack resigned from the House in July 2021 when West Virginia Department of Health and Human Resources (DHHR) Cabinet Secretary Bill J. Crouch announced his appointment as Commissioner of the Office of Human Services of the DHHR, effective August 2, 2021.
In this capacity, Pack oversees the child welfare system in West Virginia. The Office of Social Services includes Child Protection Services, Adult Protection Services, Youth Services, Foster Care and Adult Services. He oversees a team of over 1,500 people and an annual budget of over $500 million.
• • •
Margaret "Peggy" Edmunds taught at Concord for 36 years (1956-1992) and touched the lives of many students during that time.
Born in Greeneville, Tennessee, Edmunds moved with her family to Mercer County when she was young.
Edmunds graduated from Concord in January 1954 with a Bachelor of Science in Business Education. After graduating, she taught general business and business math at Beaver High School in Bluefield. During the summers, she took classes at Marshall University, working on a master's degree in business education. She taught at Beaver until May 1956 and received her graduate degree the same year. Edmunds continued his education through continuing education courses at Marshall and East Tennessee State University.
Although his primary teaching responsibility at Concord is accounting, Edmunds has also taught business mathematics, business law, and communications. Along with his time in the classroom, Edmunds served on the launch committee and served as grand marshal at Commencement during his final years as a faculty member. She was patron of Phi Beta Lambda and served as an ambassador for the Admissions Office. Serving the alumni association, Edmunds held the group's tailgate at Homecoming.
In addition to teaching at Concord, Edmunds taught various evening classes in the community, including a course in secretarial accounting and accounting principles which she offered at vocational school. She has been recognized by the West Virginia Business Education Association as an "Outstanding Business Educator."
Now retired, Edmunds has been honored by Concord with this title: Associate Professor of Commerce, Emeritus.
• • •
Emily Fridenmaker is from Greenbrier County. She graduated from Greenbrier West High School in 2008 and arrived in Concord in the fall of that year. She majored in biology/pre-professional biology. Excelling academically while at Concord, Fridenmaker graduated with honors in 2012.
After Concord, she went to West Virginia University Medical School and graduated in 2016. She then completed an internal medicine residency at CAMC in Charleston. After residency, Fridenmaker began a pulmonology/critical care fellowship at the University of Kentucky Medical Center in 2019.
In a few months, she would be at the forefront of the Covid-19 pandemic, working day and night to provide medical care to the most seriously ill patients with the highly infectious disease.
Fridenmaker will graduate from the scholarship in June 2022 and plans to return to Charleston to continue serving his home state. While pursuing her professional endeavors, she remained the wife of her husband Zac (who also dated Concord) and the mother of her 5-year-old son, Abe.