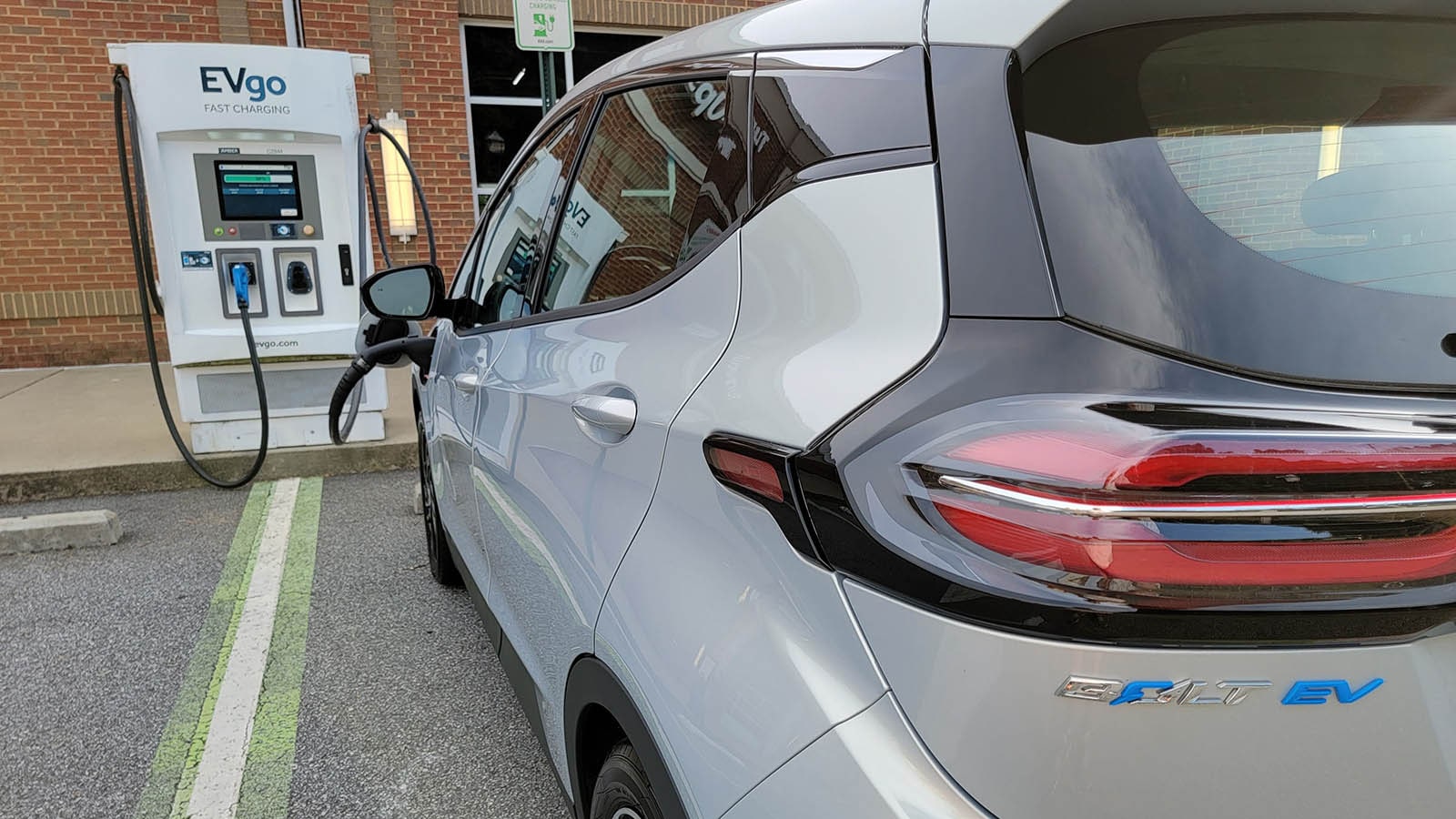 How to Charge a Chevrolet Bolt EV
When it comes to electric cars, the Chevrolet Bolt is one of the best electric vehicles on the market today. Its price is on the affordable side of the EV cost spectrum, and the Bolt has respectable battery life compared to the competition. Charging in this compact electric vehicle is quite quick and very simple. And there may be discounts and incentives available to enhance your charging experience.
Chevy Bolt Charging Time
The Chevy Bolt can handle all three levels of EV charging, from the slowest Level 1 to Level 3 DC fast charging. There is only one battery available. That means there's no long-range model, unlike some other popular EVs. The Bolt's estimated range is 259 miles on a full charge. Chevy also offers the Bolt EUV, a slightly larger variant with a range of 247 miles. Below are Chevrolet Bolt charging times for each type of charger.
Level 1 – Adds approximately 4 miles of range per hour
Level 2 – Adds approximately 39 miles of range per hour, or requires 7 hours to fully charge battery
Level 3 – Adds approximately 100 miles of range in 30 minutes
How to Reload a Chevy Bolt

Charging your Chevy Bolt is a simple process. The same charging rules apply whether it's a Tier 1, Tier 2, or Tier 3 charger. Equipment may look different, but the process for using each charger is the same .
Home charging
The most convenient place to charge your Bolt is at home. You can do this in two ways: with a basic level 1 charging cable or a level 2 charger installed.
The Level 1 charger is easy to use, especially if it's your first time charging an electric vehicle. Bolts come standard with the Level 1 charging cord, and this charger's setup might look familiar. All you need is access to any household 3-prong 110-volt outlet for this option. Plug the charging cable into a wall outlet, then insert the J1772 connector on the other end into the Bolt's charging port. While it's easy to set up and use your Level 1 charger, it's also the slowest type of charging. Chevrolet recommends this option to "charge" your vehicle overnight.
The second in-home option is to use a Level 2 wall charger. These chargers require installation on a dedicated 240-volt circuit by a qualified electrician. As of this writing, Chevrolet is offering free Level 2 wall charger installation to eligible customers who purchase or lease a new Bolt.
After installation, using a Level 2 wall charger is similar to plugging in with a Level 1 charging cord. It's the best option for recharging after daily driving or for recharging to full capacity before a long travel.
Chevrolet also has a dual-level charging cord, which is technically a level 2 charger that does not require wall installation. The charging cord is compatible with both 120 and 240 volt outlets making it portable. This option adds approximately 25 miles of range per hour of charging. Chevy recommends it for your daily charging needs.
Public charging
The fastest way to charge your Bolt is to plug it into a Level 3 charger for a direct current (DC) dose to its battery. These charging stations, called DC fast chargers, are located mainly in urban areas and near highway exits. It's the fastest charging option, but it's also the most expensive way to charge an EV battery. Using DC fast charges is the best way to quickly recharge a car battery when you are away from home. The type of plug the Bolt uses for Level 3 charging is a Combo CCS connector.
There are more than 6,000 DC fast chargers — often with multiple chargers — in the United States. For comparison, there are nearly 45,000 public Level 2 chargers. Many are located in parking lots of shopping malls, apartment complexes, hotels, and workplaces for employee use.
Connect your Bolt to a public terminal and start charging. The EV charging cost is applied to your charger network account when the session is over.
Where to recharge
Most EV owners regularly charge their car at home. Still, finding a public charger in most areas isn't difficult. The Bolt's onboard navigation system can locate nearby stations. If you're planning a road trip, the Chevrolet app can help you map charging stations along your route.
One of the benefits of buying a Bolt is discounts on charging stations. Chevrolet and the EVgo Charging Network have a partnership to save drivers money. Bolt owners can receive a $500 credit at EVgo stations for fast charging on the go.
Related articles on electric vehicle charging: