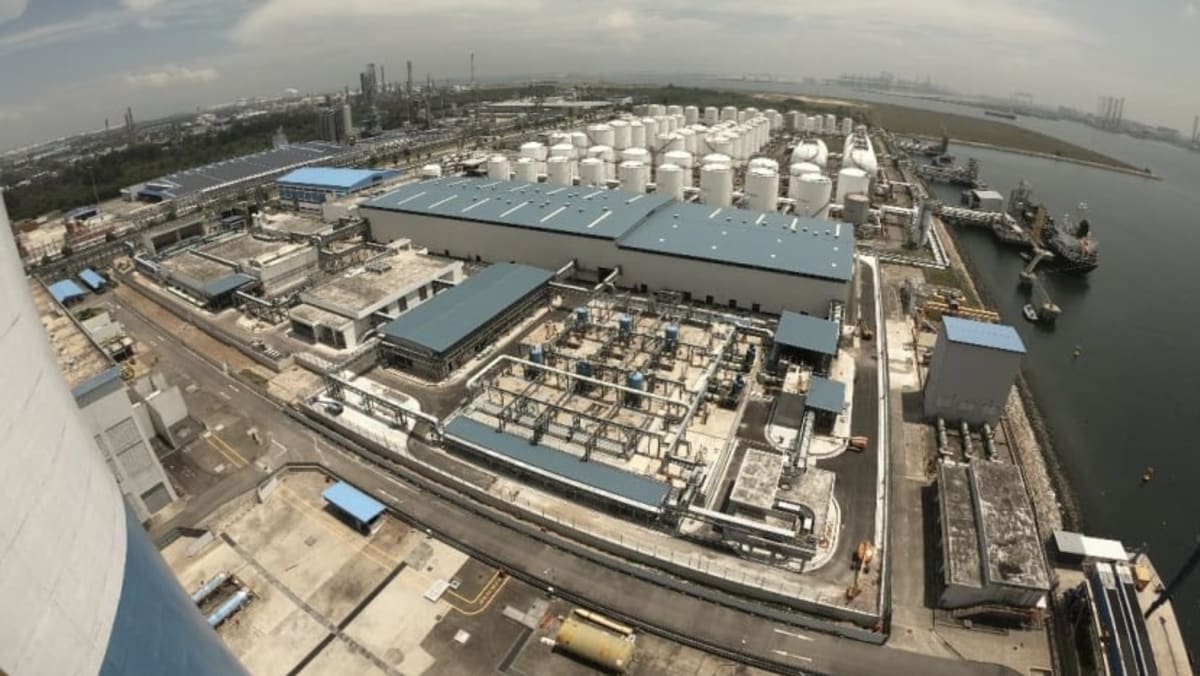 Singapore officially opens its fifth desalination plant
SINGAPORE — Singapore officially opened the country's fifth desalination plant on Sunday (April 17), which is around 5% more energy efficient than conventional desalination plants.
Due to its co-location with an existing power station, the Jurong Island desalination plant can save around 5,000 megawatt hours per year, which is equivalent to the annual electricity needs of nearly 1,000 Housing Council households and of development.
The new facility, which has been operational since the beginning of the month, was officially opened on Sunday by Deputy Prime Minister Heng Swee Keat and Minister of Sustainable Development and Environment Grace Fu.
The 3.7 hectare plant can produce up to 30 million gallons of fresh drinking water per day, equivalent to 55 Olympic swimming pools of water or up to 7% of Singapore's daily water demand .
Built according to the Design, Build, Own and Operate model, the Jurong Island desalination plant will be operated by a consortium formed by Tuas Power and ST Engineering for a period of 25 years. The consortium was chosen as the preferred bidder for the project in 2017.
The new desalination plant is co-located with Tuas Power's Tembusu Multi-Utilities Complex (TMUC), which has been operational since 2013 and houses a power plant.
Being located close to and integrated with the TMUC power plant allows the new desalination plant to "produce resource synergies", such as sharing seawater intake and discharge structures , as well as energy from the plant's production facilities, PUB and the consortium said.
For example, the feed water for the Jurong Island desalination plant comes from the seawater that the power station uses for cooling purposes. The hot seawater is then sent to the desalination plant where the water treatment process begins.
This helps to provide "slightly cleaner feed water" as there is a basic level of filtration at the point where sea water enters the TMUC. Jurong Island's desalination plant also benefits from reduced seawater pumping costs, Tuas Power Chairman and CEO Jiang Hanbin said in a speech at the ceremony. opening.
Another aspect of energy saving comes from the way the energy needed for the new desalination plant is drawn from the generator built into the power plant, explained Mr. Tan Chek Jiang of Tuas Power, who is the director of Jurong Island desalination plant. This saves on network charges, thereby reducing plant operating costs.
Besides being one of the most energy-efficient plants in Singapore, the Jurong Island desalination plant is also equipped with the latest proven water treatment equipment and membrane technologies, such as dissolved air flotation, ultrafiltration and reverse osmosis. Since it is highly automated, it only requires a team of three people to manage all plant operations from a control room.
MAKING DESALINATION MORE ENERGY EFFICIENT
Construction of the Jurong Island desalination plant began in 2018. The plant was originally scheduled to open in 2020 but faced delays due to the Covid-19 pandemic which led to global shortages of materials and resources. Border restrictions and safe management measures have also posed difficulties for the completion of the plant.
The other four desalination plants in the country are SingSpring Desalination Plant, Tuas South Desalination Plant, Tuas Desalination Plant and Keppel Marina East Desalination Plant which started operations in 2005, 2013, 2018 and 2020 respectively.
As the completion of the Jurong Island desalination plant marks another key milestone in Singapore's water journey, DPM Heng stressed that the country must not lose sight of the fact that the Water security does not come easily.
"We may not feel it in our day-to-day lives, because we no longer have water rationing like in the 1960s, and clean water flows easily from our taps. But that doesn't is not produced by chance – it required a sustained commitment of resources and a strong focus on research and development," he said.
"I am confident that we will continue to find new ways to increase the efficiency of our water supply even as we improve our water resilience," Heng added. "But to make sure we have real water security, we can't just focus on the supply side of the equation either."
Singapore currently consumes around 430 million gallons of water a day – enough to fill 782 Olympic size swimming pools – with the industrial sector accounting for more than half of this demand.
Authorities have said water demand is expected to nearly double by 2060. CNA