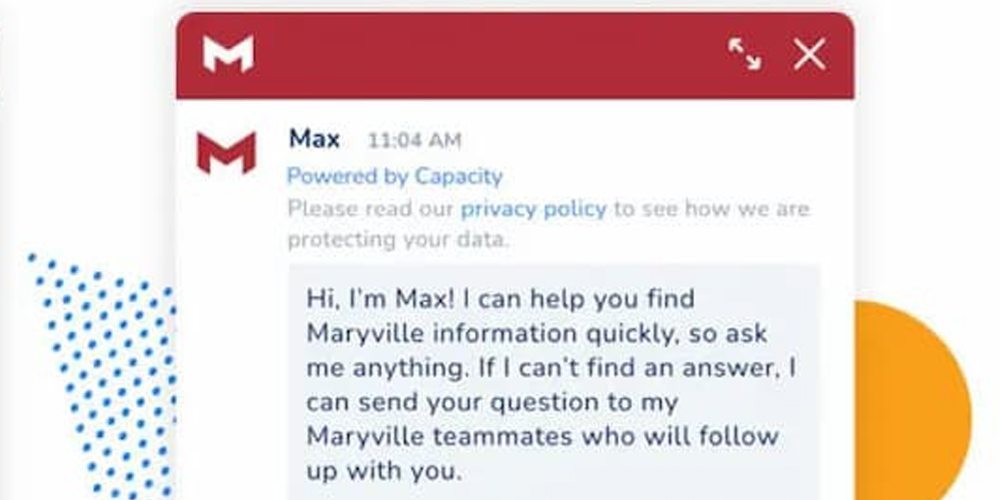 University of Maryville uses AI-powered chatbot for automated assistance and digital coaching
Maryville University, located in St. Louis, Missouri, was founded in 1872 and is one of the oldest private institutions in the Midwest. With a student population of 10,200, the student body is highly diverse, coming from all 50 states and more than 58 countries.
The university's vision is to be the innovative leader in higher education by promoting a revolution in student learning that expands access and opportunity for all. In 2019, the University of Maryville partnered with the AI-powered Support Automation Platform Capacity to realize its vision by automating incoming requests, staff processes, and student decisions.
Hire a digital collaborator
The University of Maryville online program has grown at a different pace than other colleges in the United States. To meet demand and ensure a top-notch experience for its students, management decided to introduce digital employees into their current workflows. Maryville chose Capacity to operate as its digital platform and its first digital employee, Max.
Capacity's first mission: Automating inquiries at the University of Maryville
The Capacity team took a close look at Maryville's current workflows, workflows and processes to determine what could be automated. Max is a simple chatbot interface that Capacity added to the Maryville Orientation site to answer online student questions such as "how do I contact my teacher?" or "Where is my program?" The goal was to get students' questions answered 24/7 without human intervention. Rather than emailing the professor or making an appointment with the teaching assistant, students could get their questions answered by Max. In the first week alone, Max answered 40 questions from students with a response rate of 2.7 seconds, giving insight into the breakdown of student questions by category as an administrative bonus.
Process automation and student retention
In the long term, Capacity plans to automate existing repetitive processes that consume a student advisor's time, so they can focus on strategic projects and one-on-one meetings with students. For example, if a student needs to find a tutor for their accounting class, they can interact with the Capacity bot, Max, to find out which tutors are available and schedule an appointment without interacting with their student advisor.
The capability is also responsible for identifying patterns in student data to determine which students are most likely to drop out of their online courses. For example, Capacity can determine common indicators of school dropout and keep students enrolled in courses by intervening at the right time.
Automate the best decisions
Once Capacity predicts which students need more support, it takes action to help students make better decisions. For example, if students who do not log in to the orientation site within 5 days have a higher dropout rate from their courses, Capacity will intervene by sending emails and text messages to remind students to log in. and stay focused on their lessons. Capacity will also automatically send notifications to student advisors, so they can give students a boost as well. Capacity proactively helps students stay on track, from orientation to graduation.
Capacity helps University of Maryville define the curve
The University of Maryville expects a lot from its first digital employee. Max Capacity will analyze and automate workflows, as well as answer repetitive questions from Maryville's growing student population. By implementing Max, the University of Maryville will continue to meet and exceed the needs of its students and stay ahead of the game.
Automation of tasks and workflows gives University of Maryville student advisers more time to spend one-on-one time with students instead of answering repetitive questions. Ultimately, the University of Maryville's focus on automation will ensure that the institution is recognized as an innovative leader in higher education.
"The capability allowed us at Maryville to implement the first digital human life coaches in the United States, and also to begin working with and serving students 24 hours a day, 365 days a year," said Dr. Mark Lombardi, PhD, President of Maryville. University, in a press release.